There are numerous versions of Filipino Fruit Salad. My family's rendition is made with mixed fruit cocktail, shredded young coconut, and sweetened cream.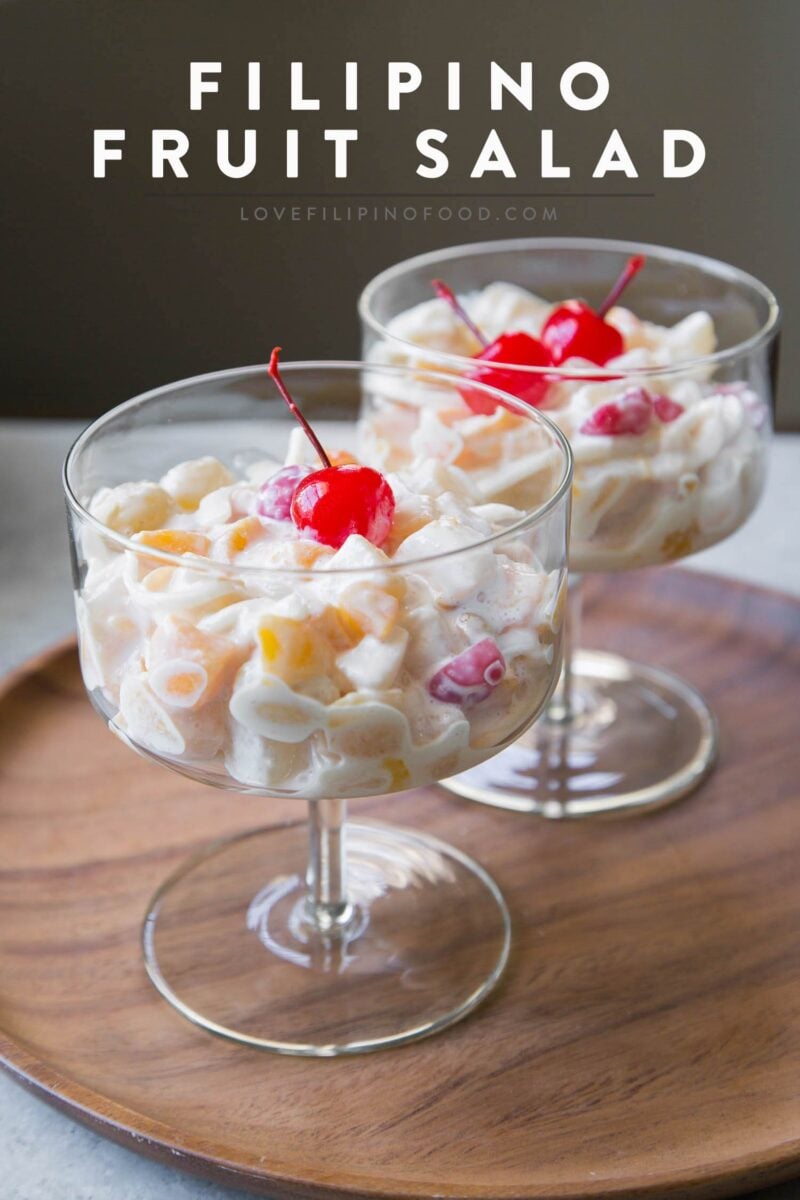 Fruit salad was a staple at every holiday party during the 80s and 90s of my childhood.
Growing up, a giant bowl of fruit salad would make its appearance at the buffet table for every Easter, Christmas, and New Year's Eve.
Let's bring it back to popularity!
Ideally, it is served chilled. Sometimes, it is served frozen so the fruits a little icy and crunchy. It turns into a such a refreshing treat.
Like with many Filipino favorites, there are many, many iterations of this dish. The recipe shared in this post is the one I grew up eating.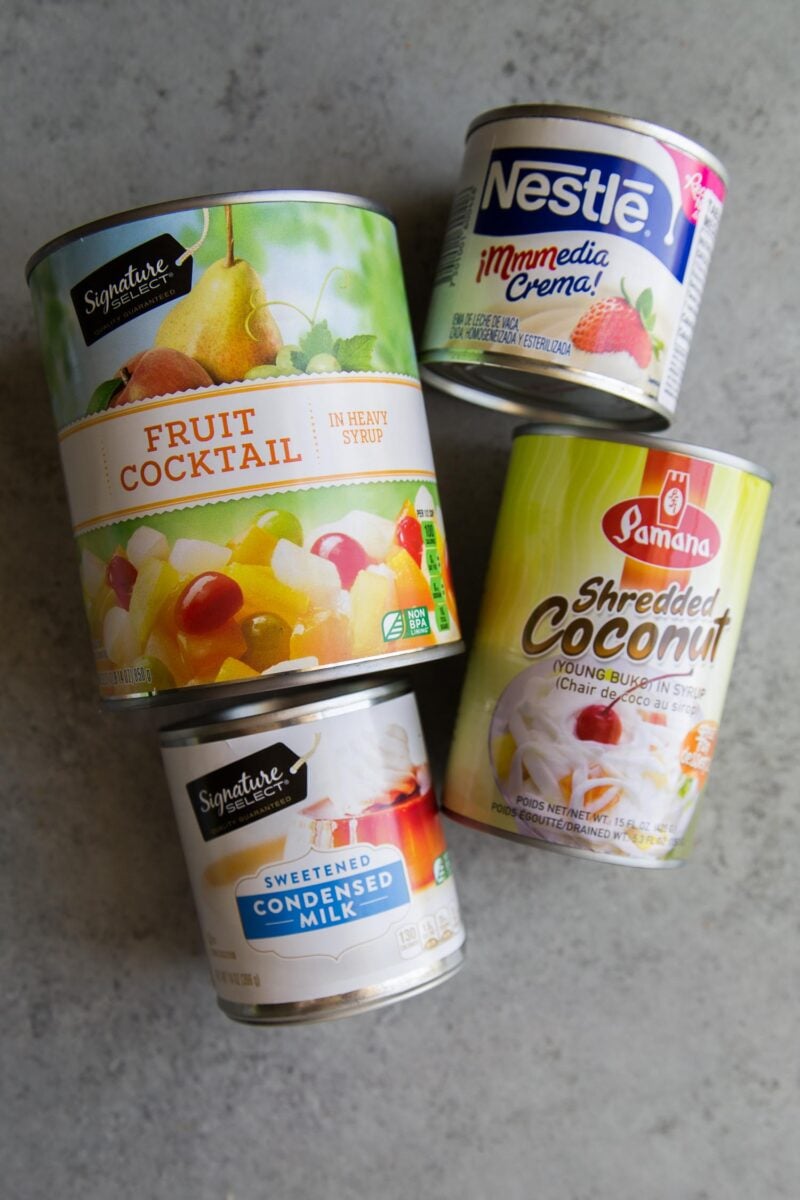 Fruit Salad Ingredients (plus substitutions)
Filipino fruit salad does not have any hard and fast rules. You can use whatever fruits you happen to have.
Traditionally, it is made with canned fruits. However, ripe fresh fruits are even better!
Ingredients
You Will Need:
Fruit Options
If you can't find mixed fruit cocktail or tropical fruit salad, you could use other canned fruits such as pineapple, peaches, mandarin oranges, or lychees.
Canned fruits in heavy syrup will be much sweeter than those packed in fruit juice.
My mom swears by the Del Monte Fruit Cocktail. I had no brand loyalty when it comes to canned fruits. I go for generic store brand option. In a side-by-side tasting, you really can't decipher the difference.
Keep in mind, If you choose to use fresh fruits, you may want to adjust the amount of sweetened condensed milk.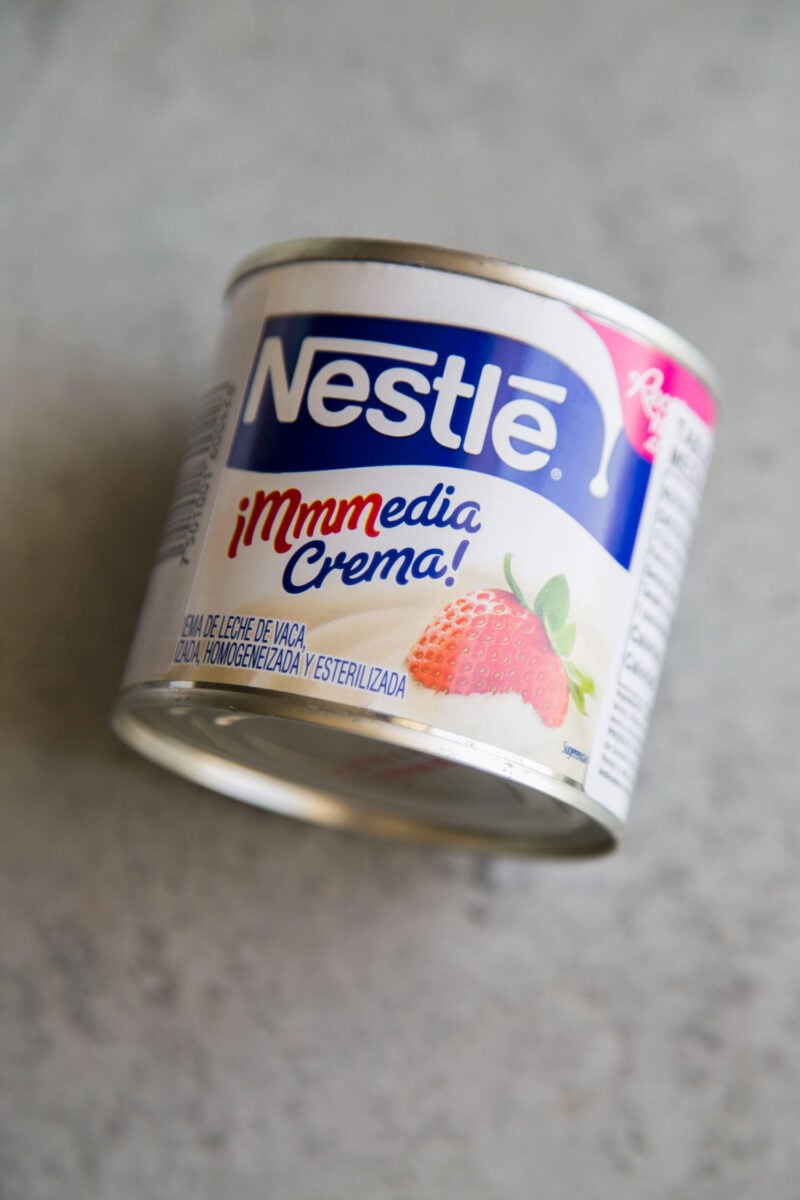 Table Cream
What is table cream?
Table cream, also labeled as media crema, all-purpose cream, or Nestle Cream, is a shelf stable canned cream.
It is liquid at room temperature and thickens when chilled.
Table cream is slightly different from heavy cream and whipping cream. Table cream has a tad bit less fat than refrigerated creams, and it is thicker in texture.
You can find table cream at any supermarket (such as Ralphs, Vons, Albertsons) or super center stores (such as Target or Walmart).
However, in my experience, it's better to purchase them at Asian or Latin supermarkets (such as Seafood City, Superior Grocers, Super King) where they are much cheaper (sometimes half the price!).
If you really cannot find canned table cream, Trader Joe's sells a shelf stable whipping cream that is a suitable substitute.
Sweetened Condensed Milk
Sweetened condensed milk is a magical, versatile ingredient.
It is a staple ingredient for making no churn ice cream such no churn ube ice cream and mais con yelo.
There is no sub for this ingredient. Sweetened condensed milk is widely available. It is sold in cans, bottles or pouches.
Although it is a shelf stable product, transfer any opened leftovers to an airtight container and stored in the fridge.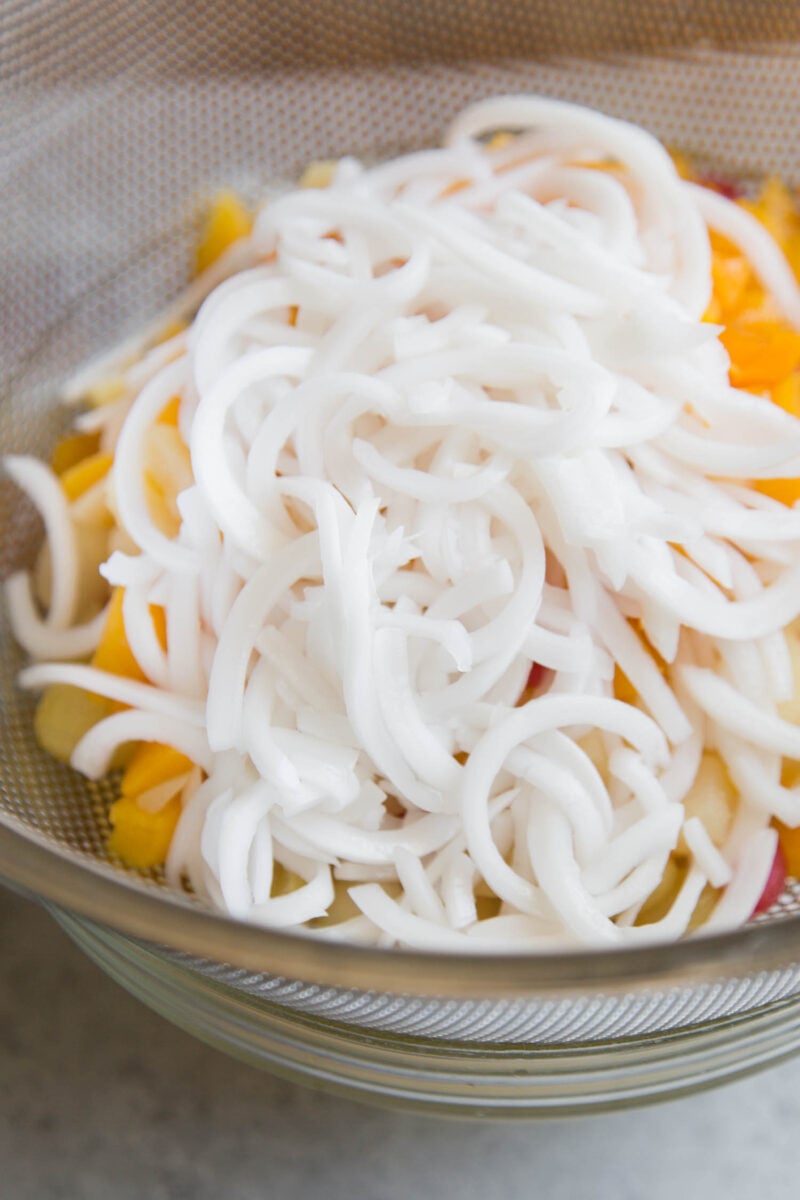 Shredded Young Coconut
There are two versions of coconut: young coconut (also known as green coconut or buko in Tagalog) and mature coconut (also known as dry coconut or niyog in Tagalog.).
Shredded young coconut is available in three varieties:
frozen shredded young coconut
canned young coconut in heavy syrup (or light syrup)
fresh young coconut that you can shred yourself
My family uses the frozen version sold in one pound (16 oz or 464 gram) packages.
The frozen version is often sweetened with sugar. Filipino and Vietnamese supermarkets often carry pandan flavored versions.
Alternately, I prefer to use the canned version because it is easier to store.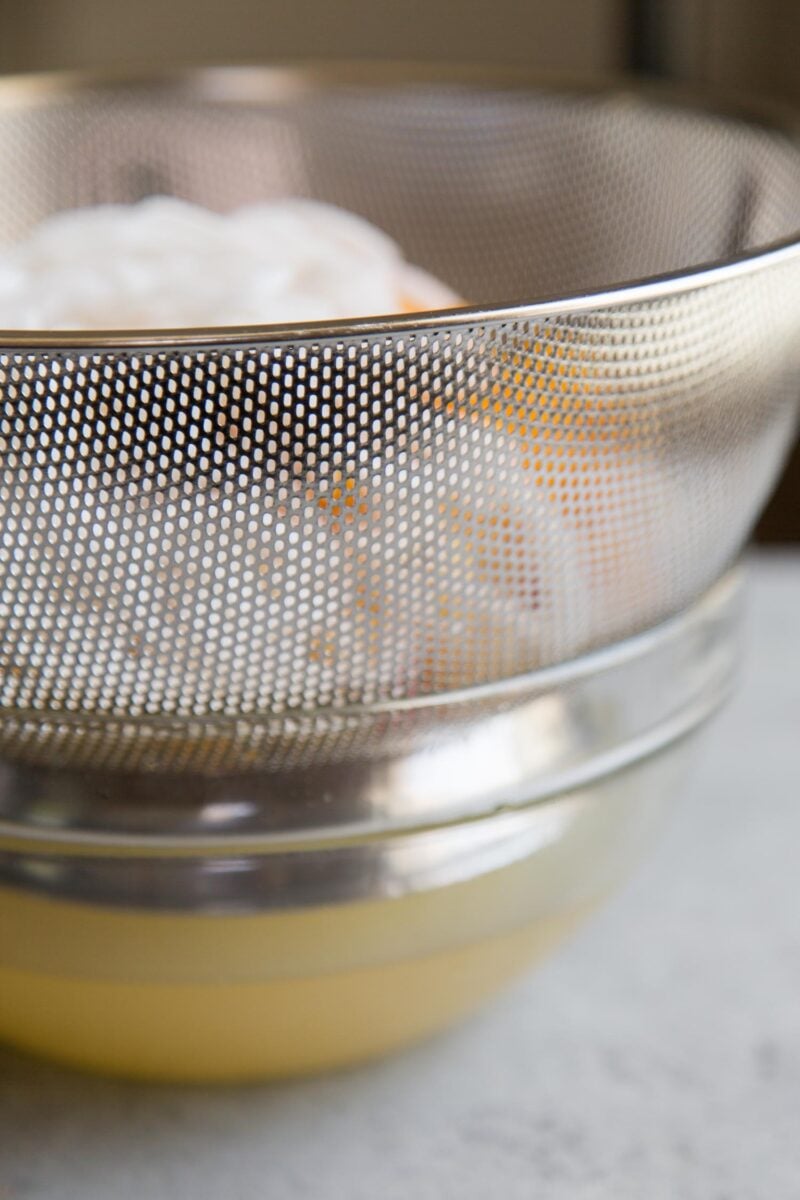 Drain Canned Fruit
Place a large colander over a large bowl, like the image above.
Pour all the contents of the canned fruit cocktail and canned young coconut (or thawed frozen young coconut) in the colander to drain off all the liquids.
It is very important to drain the canned fruit for at least 30 minutes! (In my experience, 45 minutes to 1 hour is the sweet spot.)
Properly draining the canned fruit ensures a creamy fruit salad.
Too much liquid or moisture in the fruit could result in a soupy, separated fruit salad.
I suggest using a stainless steel colander or a fine mesh strainer.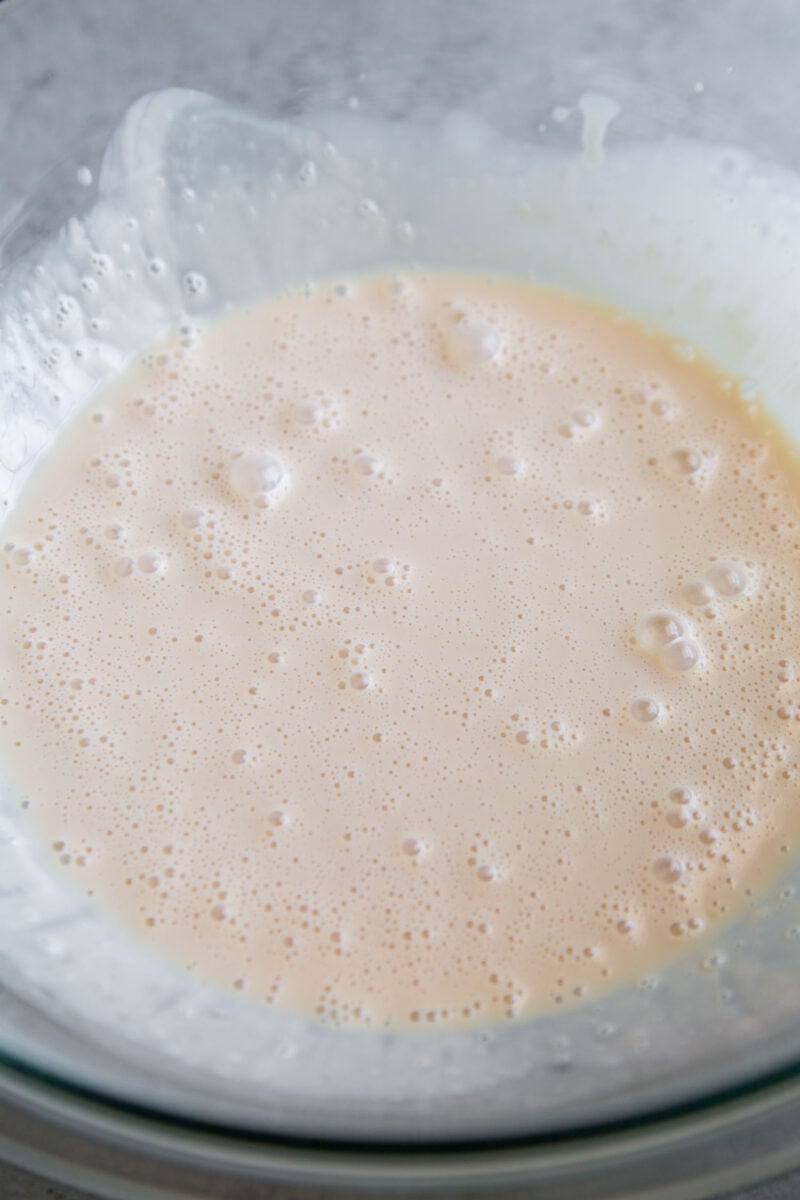 How to Mix together Chilled Fruit Salad
Pour table cream in a large bowl. Whisk to smooth out any clumps or curds. Add in sweetened condensed milk, vanilla extract, and salt.
The mixture will have bubbles like the image above. Do not fret. The bubbles are normal.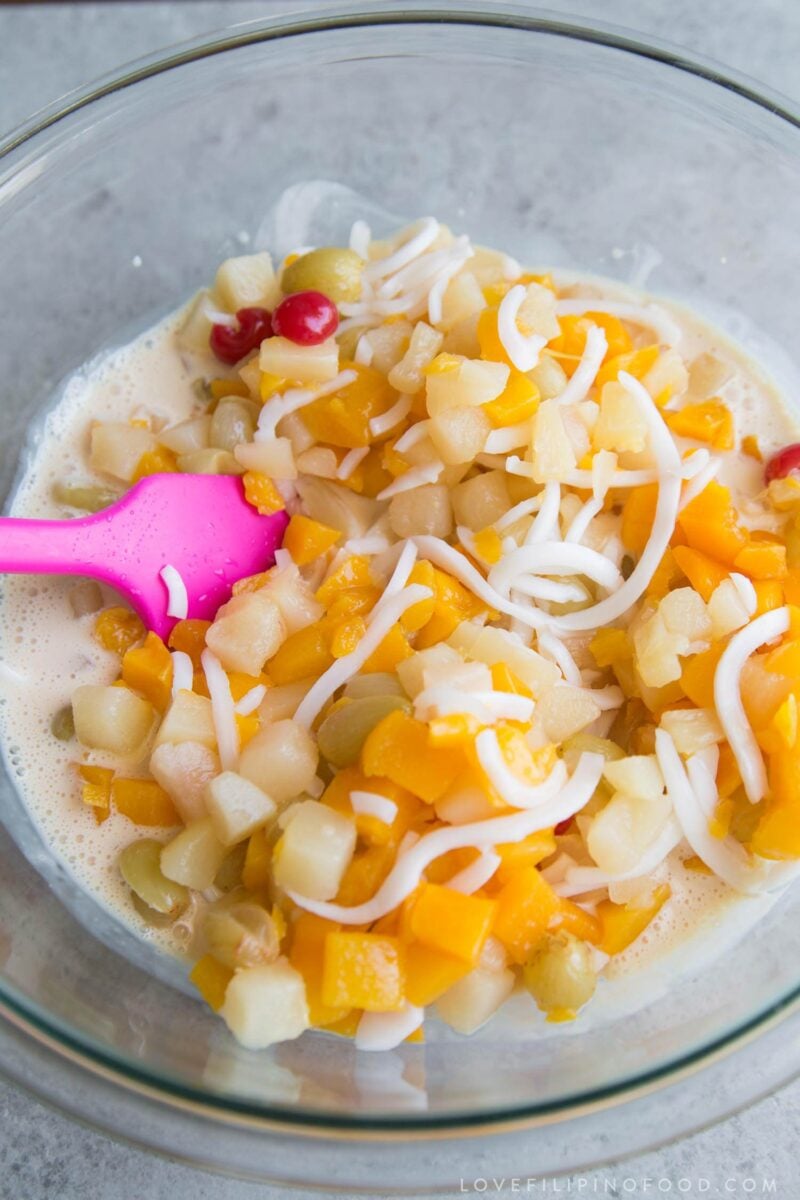 2. Add in well drained fruits to the cream mixture. Gently fold to combine, coating all the fruit with the cream.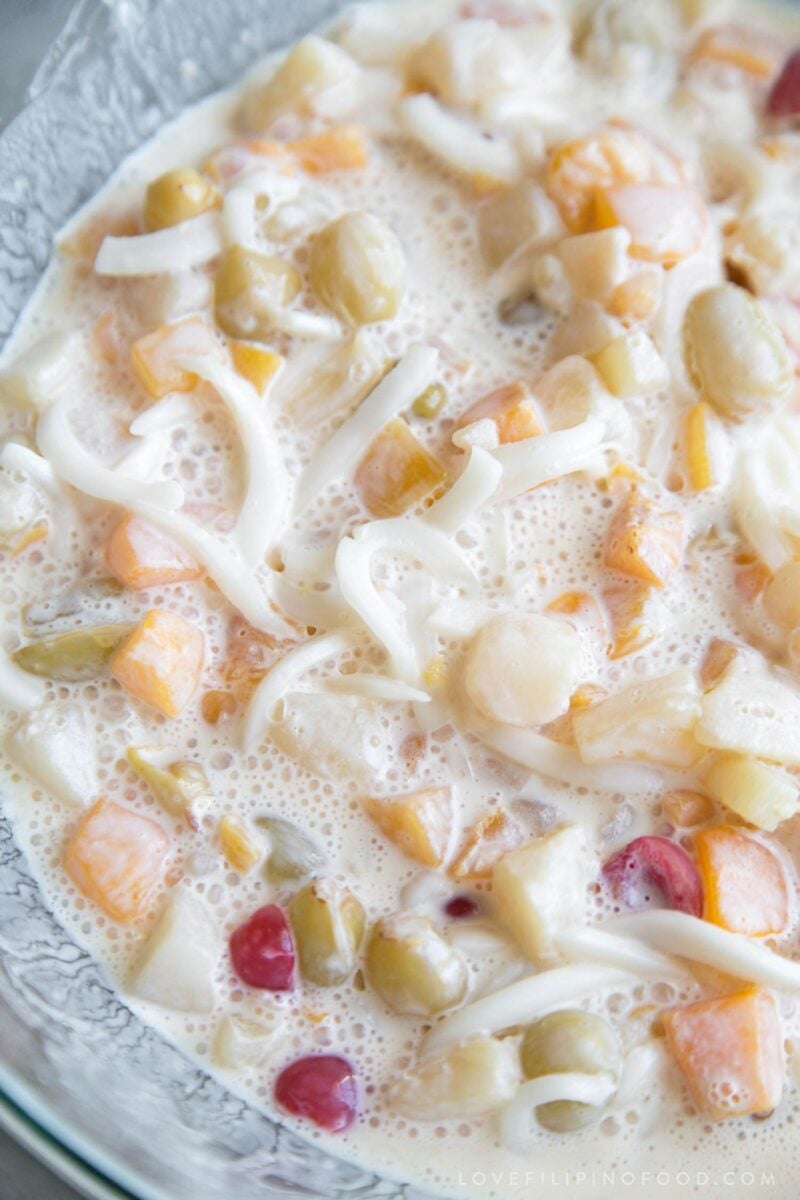 3. Cover bowl. Keep chilled in the fridge for at least 4 hours (ideally, overnight). Chilling is important.
This step is necessary. The cream mixture needs time to thicken up. Also, the fruits need to time to absorb the flavors of the cream.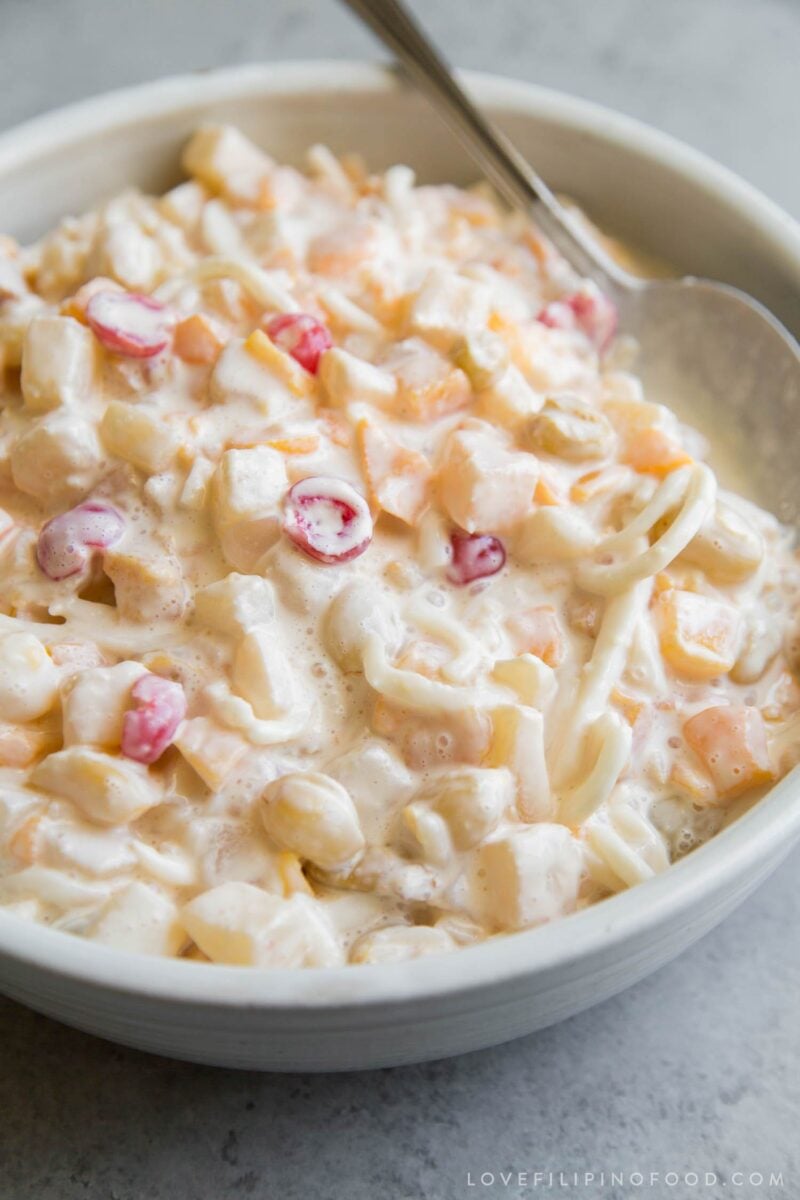 How to Serve
Give the chilled fruit salad a good stir before serving. The cream mixture should feel thick and silky.
This dessert is best served cold.
If this fruit salad will be left out on a buffet table, I suggest implementing one of the following:
make a homemade iced salad bowl by place serving bowl over another bowl with ice to keep the salad chilled
use a cooling mat
I highly recommend placing a bowl of maraschino cherries beside the serving bowl.
There is always going to be that one person that sifts through the entire fruit salad picking out all the cherries! Solution: a bowl of cherries on the side!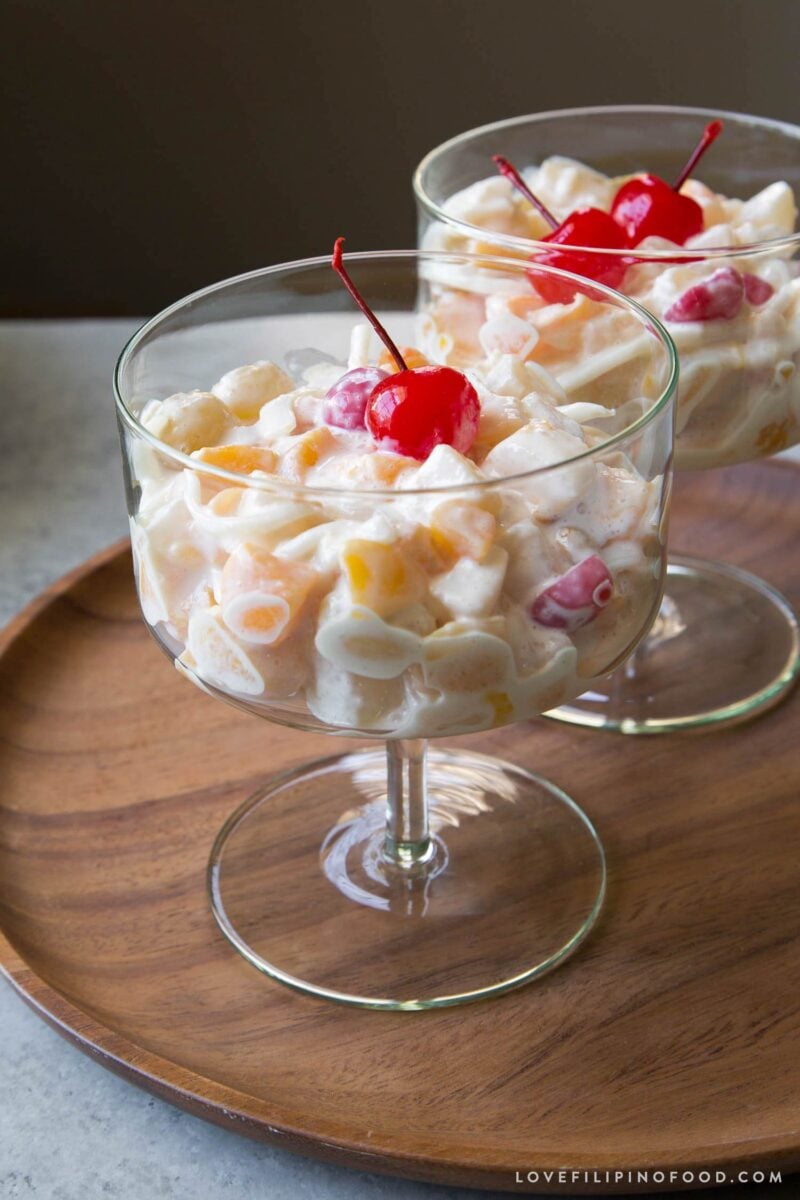 Storage & Leftovers
Store leftover Filipino fruit salad in an airtight container in the fridge for up to one week.
Filipino Fruit Salad
There are countless versions of this popular fruit salad. My family's rendition is made with mixed fruit coconut, shredded young coconut, sweetenened condensed milk, and table cream. This sweet treat is best served chilled.Filipino fruit salad is very quick and easy to make. The listed time below accounts for 30 minutes draining and 4 hours chilling. Otherwise, it only takes about 5 minutes to whip together.
Ingredients
2-

30 oz can

mixed fruit cocktail in heavy syrup

,

*

1-

15 oz can

shredded young coconut

, (young buko in syrup)*

1-

8 oz can

(225 g) table cream

, (also called Nestle Cream or all-purpose cream)

½-

14 oz can

sweetened condensed milk

,

(7 oz, 198 grams, or ½ cup + 2 Tbsp)

1

teaspoon

pure vanilla extract

pinch

kosher salt
Instructions
Set strainer over large bowl. Pour mixed fruit cocktail and canned coconut into strainer. Drain and discard the sugary liquid. Keep strainer/colander over bowl and continue to drain fruit for at least 30 minutes up to 1 hour. This can be done at room temperature or loosely covered in the fridge, for up to 24 hours.

In a large bowl, whisk table cream to remove any lumps. Add sweetened condensed milk, vanilla, and salt. Whisk until well combined.

Fold in drained fruit mixture until thoroughly coated with cream mixture. Cover and keep chilled in the fridge for at least 4 hours, ideally overnight.

Stir before serving. Serve chilled. Garnish with maraschino cherries, if desired.
Notes
Ingredient Notes:
Use any mixture of canned fruit. Most commonly used versions: Fruit Cocktail, Tropical Fruit Salad, pineapple tidbits, sliced peaches, mandarin oranges, or Del Monte's Fiesta Fruit which mixes together pineapple, papaya, nata de coco, and cherries. 
Other popular mix-ins include: coconut gel (nata de coco), gelatinous coconut string (macapuno), shredded apple, or halved fresh grapes.
Shredded young coconut is available frozen, canned, or fresh. The frozen version is sold in one pound (16 oz or 464 g) packages. The frozen version is often sweetened with sugar. Simply defrost and drain with the fruit salad. You can use half the package (8 oz), or use the entire package for more coconut flavor. 
Nutrition
Calories:
267
kcal
·
Carbohydrates:
17
g
·
Protein:
2
g
·
Fat:
8
g
·
Saturated Fat:
5
g
·
Monounsaturated Fat:
0.002
g
·
Cholesterol:
20
mg
·
Sodium:
33
mg
·
Potassium:
92
mg
·
Fiber:
1
g
·
Sugar:
36
g
·
Vitamin A:
2
IU
·
Vitamin C:
0.01
mg
·
Calcium:
0.3
mg
·
Iron:
0.003
mg